Gregory Gourdet
Director of Culinary Operations
Departure Restaurant, Portland, OR and Denver, CO
James Beard Award Semi-Finalist
Chef Gregory Gourdet is the culinary mastermind behind Departure restaurants in Portland and Denver, where he pairs local ingredients with bold Asian flavors.  A two-time James Beard Award semifinalist and native New Yorker from Queens, Gourdet honed his culinary skills within celebrity chef Jean-Georges Vongerichten's restaurant dynasty. Gourdet was named Chef of the Year in 2013 by the Oregon Department of Agriculture, was dubbed Eater Portland's Chef of the Year in 2014, and in 2015,  earned runner-up in Bravo's Top Chef Season 12. The past years have found Gregory on a global exploration of culture and cuisines from Asia to his family's native Haiti. His current cuisine shows these learnings and influences while still maintaining his hyper focus on sustainable food systems and local food culture.
Photo Credit: Nicolle Clemetson
Maya Lovelace
Executive Chef
Yonder
James Beard Award Semi-FinalistRaised in Western Carolina on Appalachian cooking traditions, Maya Lovelace's first experience in the kitchen came with her grandmother, standing on a step-stool to help make yeast rolls for dinner. Maya has worked in Portland for Naomi Pomeroy at Beast, Troy MacLarty at Bollywood Theater, and Janis Martin at Tanuki. After Lovelace's roll-baking grandmother died in 2012, Lovelace honored her by launching a pop-up, Mae, which quickly took off. In the years since, Lovelace's fried chicken and soulful style have gained a serious following. In 2017 and 2018, she was a semifinalist for James Beard's "Rising Star Chef of the Year," while Eater named Yonder — Lovelace's forthcoming restaurant — one of the year's "Most Anticipated Restaurant Openings."
Matt Christianson
Executive Chef
Urban Farmer
Chef Matt Christianson focuses on redefining the modern steakhouse with an emphasis on Northwest, sustainable ingredients and simple, straightforward preparations as executive chef at  Urban Farmer  in The Nines Hotel. Since studying at the Culinary Institute of America, Christianson has worked in kitchens across the USA, studying food cultures as he went — Christianson's largest influence is the regional food culture of San Francisco, which he now emphasizes in his cooking by maintaining excellent relationships with farmers and applying "farmer-centric" values. 
Elsy Dinvil
Executive Chef
Creole Me Up
A native of Haiti, where she grew up in the kitchen helping her mother prepare the family meals, Elsy Dinvil came to the U.S. in 1991 on a full-ride scholarship to study food science technology. Her business, Creole Enterprises LLC, was launched in 2017, and is focused on helping people overcome health challenges through simple choices in the food they eat. Her goal is to provide chemical and allergen-free, plant-based products with rich flavors, which offer an alternative in the kitchen, all while staying true to her Haitian roots, culture, and background. Dinvil also runs cooking classes, and caters large and small events. Her book of Haitian recipes, Cooking With My Mother, is available on Amazon.
. 
Rassamee "Nim" Ruaysuntia,
Executive Chef
Lang Baan
Rassamee Ruaysuntia started her Michelin-spangled career in a classic Thai dessert shop in Bangkok, where she worked in the front of house and helped make desserts. After five years, she moved to a Japanese restaurant that became the turning point in her career. She began working in the kitchen, launching a culinary journey that took her through the kitchens of Soul Food Mahanakorn, the lauded Nahm, and the Italian restaurant Appia in Bangkok. In 2013, Ruaysuntia moved to Portland and worked at Paadee before moving to Langbaan.
Naomi Pomeroy
Chef / Owner
Beast
James Beard Award Winner
Born and raised in Corvallis, Naomi Pomeroy spent her childhood hanging out with her mother by the stove and in backyard gardens. Those early lessons blossomed into her own restaurant, Beast, which was named Restaurant of the Year by The Oregonian in 2008, and earned Pomeroy the "Chef of the Year" honor from Portland Monthly that same year. In 2014, Pomeroy won the James Beard Award as "Best Chef: Northwest," and was a Best Chef nominee in 2010, 2012 and 2013.
Ryan Roadhouse
Chef / Owner
Nodoguro
James Beard Award Semi-Finalist
Born in the Midwest, Ryan fell in love with Japanese food as a teenager in Vancouver, B.C, where he learned to make basic Washoku in the kitchen of a Japanese restaurant. After high school, Ryan worked for Toshi Kizaki at Denver's famed Sushi Den, working his way from Apprentice to Head Chef, also working at Kizaki's restaurant and fish business in Fukuoka, Japan. It was at the Fukuoka fish market that Ryan became obsessed with the Nodoguro, a constant reminder of the endless secrets of Japanese cuisine and the inspiration for the eponymous pop-up-turned-tasting-menu restaurant Ryan would found with his wife, Elena. Over the past six years, Nodoguro has evolved from a wildly creative traveling restaurant to a high-end Japanese omakase in Portland. The restaurant won numerous accolades, and Ryan has been a semi-finalist for the James Beard Foundation's "Best Chef: Northwest" award every year since 2015.
Justin Woodward
Executive Chef
Castagna
James Beard Award Nominee
Since taking over the kitchen at Portland's Castagna in 2011, acccolades have been flowing in for Executive Chef Justin Woodward, including James Beard Award nominations for Rising Star Chef (once) and Best Chef Northwest (four times), and a current ranking of No. 15 for Castagna on Opinionated About Dining's  list of the nation's Top 100 restaurants. Training in top restaurants around the world has made Justin's cooking extremely seasonal and progressive, with an emphasis on creating a surprising and fun dining experience, and truly delicious dishes. 
Photo Credit: John Valls
Katy Millard
Chef / Owner
Coquine
James Beard Award Nominee
Katy Millard was born in Zimbabwe and raised in South Africa until her family moved to Mobile, Ala. After graduating from Michigan State with a degree in hospitality, she traveled across the Atlantic and began cooking at some of the finest restaurants in France, including Le Château de la Chèvre d'Or, Le Grand Hotel in St Jean-Cap Ferrat, and La Table du Lancaster. Her restaurant, Coquine, began the Portland-way: as a pop-up. Spurred by its success, Millard and her husband (Rising Star Sommelier Ksandek Podbielski) found a brick-and-mortar home in 2015.
Bonnie Morales
Chef / Co-Owner
Kachka
James Beard Award Nominee
The first-generation American daughter of Belarusian immigrants, chef Bonnie Morales grew up in a large Chicago family that brought with them the distinctive food and drink culture of the former Soviet Union. She trained at the Culinary Institute of America and top kitchens in New York and Chicago. Kachka opened in Portland in 2014, inspired by the food of the former Soviet republics. Kachka has received myriad accolades, including Eater's "Best Restaurants in America" from 2015-18.   Morales was named Rising Star Chef by StarChefs, and was a finalist for the James Beard Award for Best Chef: Northwest. Morales' first cookbook, Kachka: A Return to Russian Cooking, was released in 2017.
Photo Credit: Carly Diaz
Peter Cho
Chef / Owner
Han Oak
James Beard Award Nominee
From an early age, Peter Cho developed an intuitive grasp of cooking from his Korean immigrant mother. A native Oregonian, Peter cut his teeth in New York City for 10 years before opening Han Oak in his live/work space in 2016. A casual Korean-American restaurant merging classic Korean flavors with local ingredients and inventive western techniques, Han Oak has garnered Best New Restaurant recognition from James Beard Foundation, Eater, GQ and Esquire. Peter was named as one of Food & Wine Magazine's 2017 "Best New Chefs," and in 2019 was named a Finalist for the James Beard Foundation's "Best Chef: Northwest."
Vitaly Paley
Chef / Owner / Author
Paley Hospitality
James Beard Award Winner
Critically acclaimed chef, accomplished restaurateur, and noted cookbook author Vitaly Paley has cemented his place as a leader in the American culinary scene and a trailblazer within the fast-growing Portland food community through his award-winning food, unmatched creativity, and superior technique. With 25 years' experience, a 2005 James Beard Award for "Best Chef Pacific Northwest," and an April 2011 winning battle on Food Network's "Iron Chef America" under his belt, the Russian-born and French-trained Paley believes cooking is as much about soul searching and mood as it is about rigorous technique and constant repetition.
Doug Adams
Chef
Bullard
James Beard Award Semi-Finalist
Chef Doug Adams' is the co-founder of Holler Hospitality, comprising three food-and-beverage alternatives at Woodlark, a new hotel in downtown Portland. Included are Bullard, a 70-seat restaurant that draws inspiration from Adams' small-town Texas upbringing; Abigail Hall, a 40-seat, living room-style bar; and a collaboration with Portland's Good Coffee, where Adams oversees the to-go breakfast menu, introducing Portland diners and visitors to his interpretation of Texas-style Kolaches. A veteran of some of Portland's most prestigious kitchens (including Paley's Place, Imperial, Lucier and Metrovino) and a top-three finisher on Bravo's Top Chef: Boston, Adams has won numerous "Best Chef" awards from regional publications, and was a semifinalist for the James Beard Foundation's Rising Star Chef in 2016.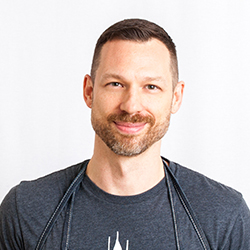 Tim Healea
Owner
Little T American Baker
James Beard Award Semi-Finalist
Tim Healea is the owner and principal baker of Little T Baker in Southeast Portland. For more than 11 years at Little T, he has carefully cultivated the key ingredients for an exceptional bread bakery—the best wheat and grains from local growers and purveyors; a small team of bakers with deep knowledge of fermentation and baking science; a dedication to traditional hand-shaping skills; and a serious love and passion for baking. Tim was previously the head baker at Pearl Bakery, and in 2002 he earned the silver medal as part of Team USA at the Coupe du Monde de la Boulangerie in Paris. In recent years, Tim was selected as a semi-finalist for the James Beard Award for Outstanding Baker and as a StarChefs Rising Star.